Resolve 3D Steel Detailing
We use the latest 3D structural steel detailing software (AutoCAD Advance Steel) to create high-quality architectural and engineering plans for your steel construction project.
The use of 3D steel drawings means the components for your construction will be 100% accurate. That means, at the time of building, everything will fit together easily, saving you time and money, and ensuring a quality construction.
We use specialised 3D steel software by Tekla steel detailing, Autodesk Advance steel plus Revit Structures and solid works.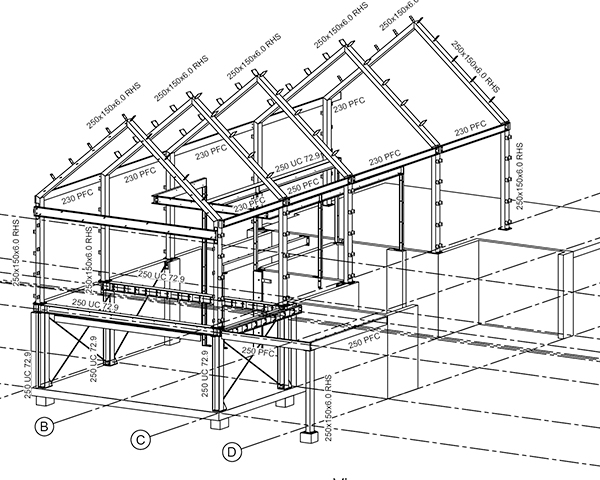 What is 3D Steel Detailing?
3D steel detailing involves the use of high-tech computer software to produce shop drawings for a steel fabricator. These 3D drawings also provide the layout instructions to facilitate the installation and erection of the steel framework. Through the use of a 3D-viewer and 3D-model, it also enables us and the client to visualise each project, and how its pieces fit together, in 3D.
When preparing 3D plans for your steel project, we work closely with your architect, engineer, or contractors to ensure the final drawing is precise and ready to be used in the workshop or on-site. Our drawings include details for the manufacture and erection of all steel members (e.g. columns, beams, braces, trusses, stairs, handrails, joists, metal decking, etc.) to be used in your construction.
Steel Detailing at Pengelly Engineers
Pengelly Engineers utilises the latest 3D project modelling software technology (AutoCAD Advance Steel) to ensure the best drafting results. With three in-house steel detailers and vast experience in resolving steel fitment within timber building structures, we are able to provide a reliable and professional service.
At Pengelly's:
We provide an individualised service focusing on each client's unique project – this means you know you are being listened to and will receive 3D-modelling that will add to the quality and efficient completion of your building project.
We have a thorough review process throughout each step of the drawing procedure, and of the completed structural design model – this means potential issues relating to shop fabrication, transportation and site erection can be addressed early in the process.
We pride ourselves on the precision and accuracy of our final drawings – this usually results in both cost and time savings on most projects.